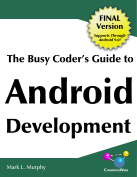 CommonsWare is here to help you through the challenges of Android app development, whether you are new to the platform or are deep into a project!
The Busy Coder's Guide to Android Development offers over 200 chapters of Android knowledge, from the very basics through highly advanced topics.
Not only does subscribing (only $20!) give you that book, but you also get additional books, including:
CommonsWare also offers consulting and training for organizations looking to advance more quickly in their Android app development efforts.